Odoo 16, the best Odoo ever
Today, we are excited to announce the release of Odoo 16, the
fastest, most beautiful, and most intuitive version
we have ever developed!
This past year, our R&D teams focused on massively
improving many existing features and developing the ones that our clients requested the most
. We provided more business intelligence, brand new reporting for stock/MRP, an entirely front-end website app, an overall performance increase, and many more.
All this while, of course, releasing new apps. This year comes with the brand new
Knowledge app
, a solution aiming to help you
manage, collaborate, and share knowledge with your company
. With it comes Odoo's refactored dashboards. Those have been converted into Spreadsheet-based reports.
With all the means and efforts our teams put into their jobs,
we want to say that Odoo 16 is THE software solution your business needs
.
So, without further ado, let's take a look at what the new version has in store for us. If you wish to try Odoo 16, please feel free to head to
www.odoo.com/start.
And if you want a complete list of all our new features, check out the
release note
.
A story of Performances
Odoo 15 was already fast. But guess what? We didn't stop there. The performance of Odoo 16 has been improved across the whole tech stack. To give you a few examples, it means that, on average:
Opening an invoice from the backend is 3.7 times faster.
There are 2.4 times fewer SQL queries per URL on average.
eCommerce pages load 3.9 times faster.
Now, for the more technically inclined, let's dive into some of the details.
On the web client, almost all JavaScript components now use OWL 2, which means backend views load up to 20 times faster! Of course, that's not the only improvement: the number of CSS lines dropped by 68%, the chatter's performance has been improved thanks to complete refactoring, and the number of remote procedure calls was reduced.
For the network, we managed to lower the latency by reducing the number of HTTP calls, which is a 35% reduction on average in the data size of views, as well as the use of NGINX to deliver large files.
Regarding business features, we switched from the 'onchange' method to using computed fields. Previously, creating 50 invoices with 50 lines each would take 79.5 seconds to compute. Now, it only takes 19.44 seconds.
The server framework has also been greatly enhanced. With the introduction of fragment caching, the performance of all website pages has dramatically increased.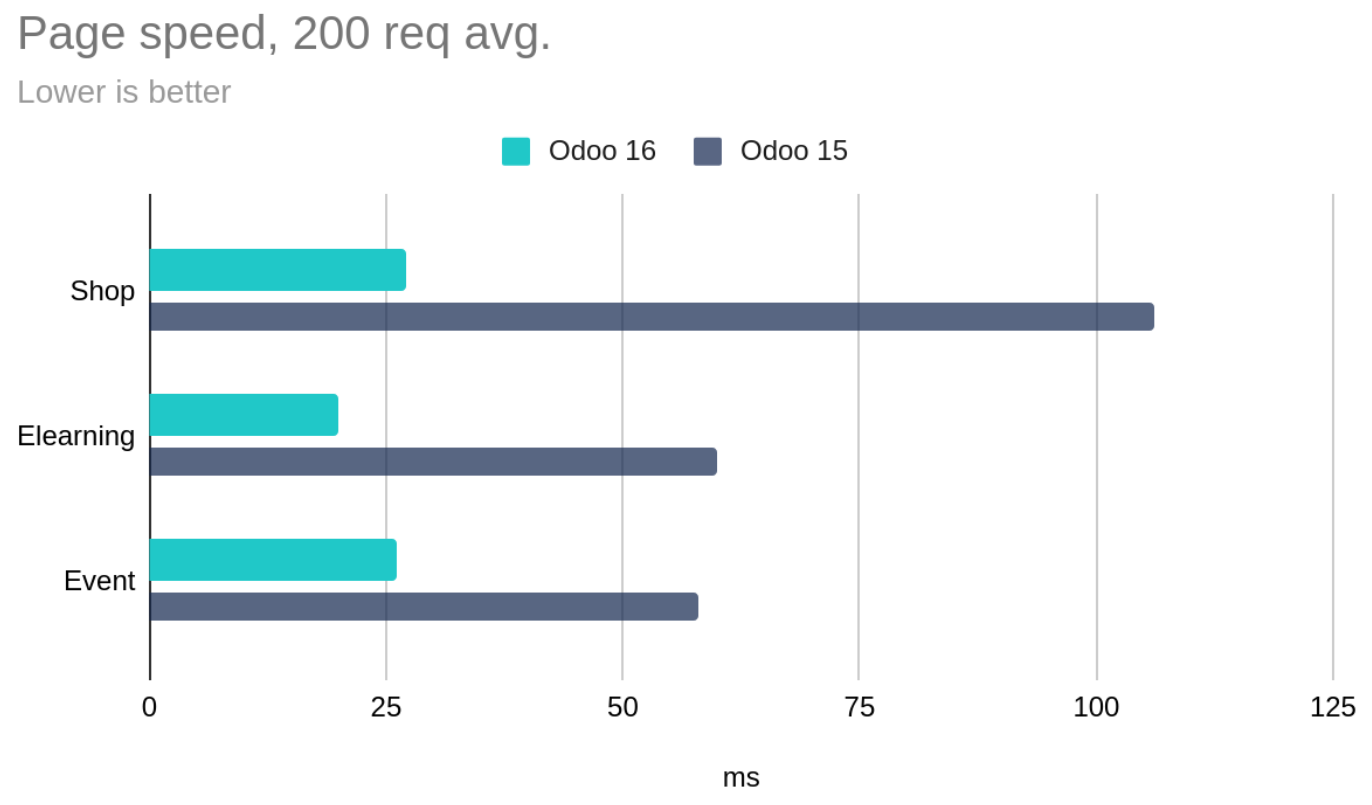 And that's not all for the server framework: translated fields now use JSONB fields instead of 'ir.translation' tables, new optimized indexes are available, sessions are only stored if default values are changed, backend views are cached, and the cold loading of menus is optimized.
Last but not least, hundreds of Odoo Online servers have been upgraded and switched to HTTP 2.0.
Don't believe us? See for yourself now by creating your Odoo 16 database!
Make peace with your Accounting
Odoo Accounting already benefited greatly from its recent refactoring, becoming one of the best real-time accounting apps. Still, we went the extra mile this year to make most processes as painless as possible.
We started by improving the navigation throughout the app. As usual, we kept adding and updating localization packages, and we are happy to announce that 70+ countries are now covered.
The new bank reconciliation widget vastly improves the user experience. Everything is clearer and cleaner, making the process even faster.
With the Accounting Firms mode, encoding invoices has never been faster: set the contact and total amount, and that's it!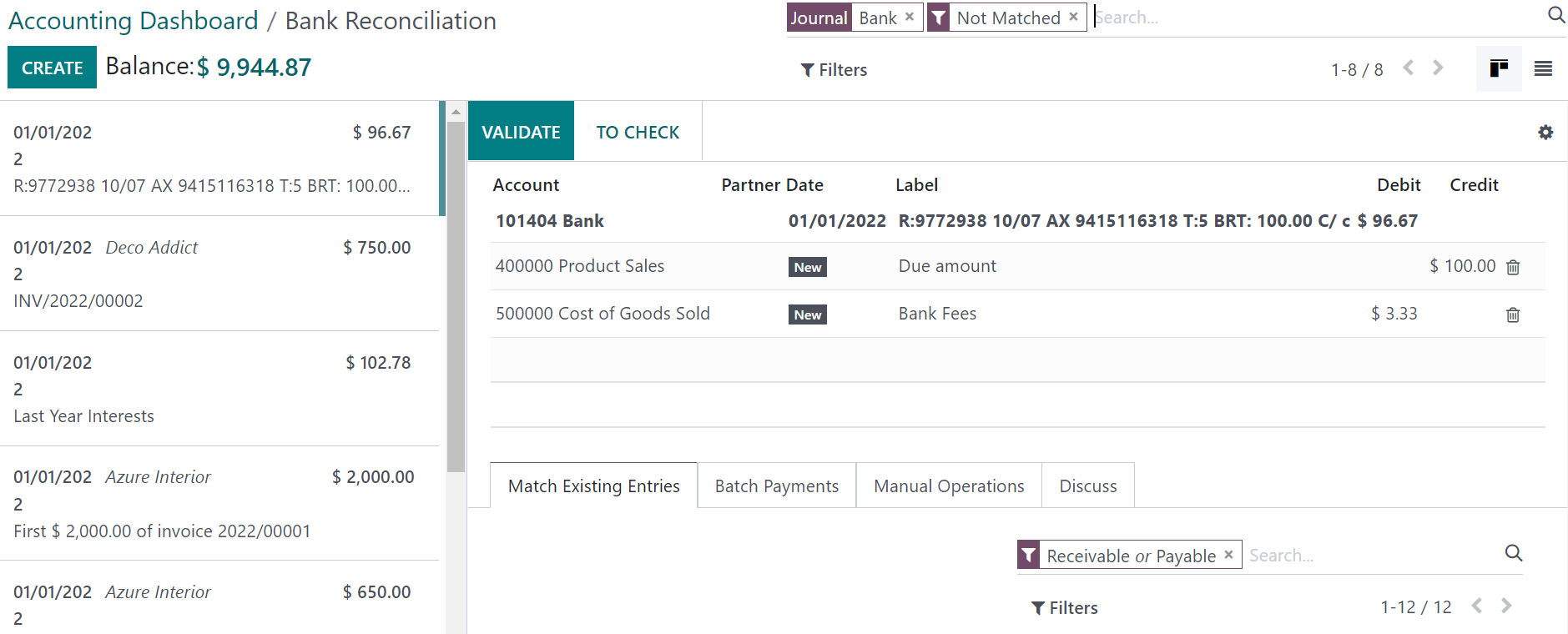 The reporting section has been redone entirely from scratch; you will never have to worry about finding the necessary information anymore.
Can't get enough accounting analytics? We added a new analytic widget on invoices to ease analytic distribution, analytic plans, and analytic distribution models. You can now break financial reports down and analyze them according to analytic accounts and plans.
And that's just the beginning. To name a few of the new features: credit limit warnings, recurring invoices, early payment discounts, Storno accounting support, etc. Check the What's New in Odoo Accounting talk to discover all the new features!
When Dashboards meet Spreadsheets

Let's be frank, reporting dashboards were quite tedious to use. Of course, we couldn't let that go on forever. All dashboards – the homonymous app included – have been converted into Spreadsheet-based reports. You can now use them for edition or advanced computations!
That's why we focused a lot of our attention on improving Spreadsheet. To name a few of the most important changes, you can now see records on List function, convert XLSX files to the Odoo Spreadsheet format, or use a new set of functions to get accounting measures.

But wait, that's not all. We proudly announce that the Spreadsheet library has been open-sourced in LGPL. Odoo Spreadsheet becomes the first open-source solution that lets you edit sheets collaboratively, and import/export Excel files seamlessly – supporting tables, charts, frozen panes, hidden columns and rows, and 200+ functions!
Website and eCommerce: Between intuitivity and completeness
This year, we focused our energy on improving both the UI and UX of our
Website
and
eCommerce
apps.
Your website is now directly accessible by clicking on the app icon
. No need to go through the Website app dashboard anymore.
All menus also got revamped to make everything more intuitive. Products, loyalty programs, etc. can be reached in one click. Of course, everything comes with more new building blocks, options, and widgets. You can check the video below to have an overview of all those new things.
Our Website app has never been that fast and user-friendly
.
The whole eCommerce app has been rethought to make it more intuitive while being more and more feature-provided.
New options are also available, so your eCommerce catalog and pages are unique
. To strengthen it, we also added a connection to Plausible.io. This integration will help you follow your website and eCommerce metrics directly from your website.
At the same time, your sales funnel is now more customizable than ever:
Several new payment providers, such as Razorpay, AsiaPay, and many more, have been added to offer you more opportunities.

Your customers can now enjoy express checkout and address autocomplete.
Upselling blocks can now be customized.
All attributes and variants features are now accessible from the front-end.
And many more!

Finally, note that
the Website app will have 2.4* less SQL queries per URL, while the eCommerce app will be 3.9* faster at loading pages
. No need to say that your global SEO loves this news!
Smoother Manufacturing and Inventory processes
To make your life even easier, Odoo put incredible effort into improving several aspects of its MRP and Inventory apps. We have added new behaviors to the Inventory Adjustments feature, such as Storage Categories and Last Count Date. All the Inventory app reporting has also been fully revamped, making it much easier now to navigate, thanks to the new reworked menus.

But that's not all. Odoo 16 comes with several other improvements. It is now doable to decide if backorders are automatically created or not per operation type, but also to automate replenishment on specific locations by setting them as Replenishment Locations.

Regarding MRP, considerable improvements have been made in the Structure and Cost report. The design has been entirely redone, and it is now named Overview. Design-side, the Tablet View has also been improved to make it more complete (integration of an ECO pop-up, for example).
You are also now able to create operation dependencies on the BOM that dynamically influence the planning and status of work orders. Then, manufacturing orders can be split for batch production and assigned to different employees or work centers. The opposite is also true, meaning that you can merge manufacturing orders for batch production or planning purposes.

Lastly, manufacturing subcontractors can now register their production from their customer portal, once granted the necessary access rights.
Managing and sharing knowledge made easy

Have you ever wondered how to manage your company knowledge? How to create an internal document that can be read and edited by your team? Is it possible to create a copy of an article or duplicate its whole hierarchy? Is it possible to do all of that without using several external solutions or labyrinthic folder structures? Well, the answer is yes to all of them!

Odoo 16 comes with a new intuitive app named Knowledge. This app allows you to create or duplicate articles and their hierarchy to share your company knowledge and even make it customizable by everyone internally.


How can it be customized? Thanks to many features, including a cover picker, nested articles, or embedded views (for info from other Odoo apps for example). Then, it allows inserting tables of contents, indexes, and outlines in articles to showcase nested content.
Oh, and because the Odoo Knowledge app is breathtaking, it gives a grace period to your deleted articles before permanently deleting them. We never know; a miss-click can happen fast.
origin: https://www.odoo.com/blog/odoo-news-5/meet-odoo-16-968